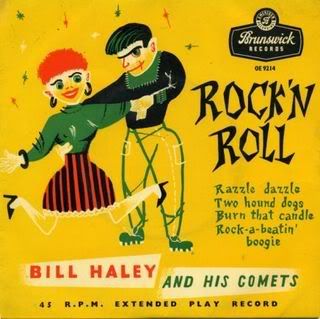 Genuine 1950's UK-issue Bill Haley 45rpm extended play disc. Dreadful artwork on the front cover. Back cover has good liner notes - it's interesting to read the author struggling to categorise the music. The music? Ah, yes here's Bill Haley and the Comets on the same blog as some of the giants of Jazz and R&B, and guess what? Old Bill doesn't sound too bad at all! There'll be more rock'n'roll and even hillbilly on here. It's all good music!
password = greaseyspoon; ripped from vinyl at 320kbps; click on the link to get the music and the covers.
My thanks to the Lawson family - I borrowed this from them about 25 years ago. I must return it some day ...