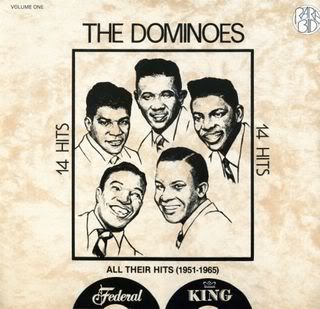 This is the third posting on the blog of Dominoes' Federal/King material, so there is some duplication of tracks, but enough new stuff to merit the effort of downloading. In addition there is a folder chock full of Joan K's cover scans and label shots included in the download, so come on and grab it.
This compilation is a quick chronological journey through The Dominoes' time at Federal/King, though to call all of these 14 tracks "hits" is surely stretching the truth somewhat. The full Dominoes story is over on Unca Marvy's (Marv Goldberg) R&B pages so there's no point in me trying to rehash the whole story here. It's a somewhat bewildering tale of personnel changes and personality clashes (mostly caused by Billy Ward's inflexible disciplining of group members and failure to reward them financially). The group's initial stay with Federal/King lasted from 1950 to 1955 and was followed by spells with Jubilee, Decca and Liberty as Ward sought to move away from the world of R&B into the pop sphere. He succeeded at Liberty with the huge hit "Stardust".
The final two tracks are real oddities. They were recorded in 1965 for King but are almost unrecognisable as Dominoes tracks, especially when you compare them to The Dominoes in their early 1950s pomp when they were led by Clyde McPhatter, or even by his successor Jackie Wilson.
Ripped from vinyl at 320kbps. Password = greaseyspoon
Download from here:
https://rapidshare.com/files/3388159747/Billy_Ward___The_Dominoes_14_Hits.rar
1. Sixty Minute Man
2. I Am With You
3. That's What You're Doing To Me
4. Have Mercy Baby
5. I'd Be Satisfied
6. The Bells
7. Pedal Pushin' Papa
8. These Foolish Things
9. Can't Do Sixty No More
10. Rags To Riches
11. Ringing In A Brand New Year
12. Over The Rainbow
13. O Holy Night
14. What Are You Doing New Year's Eve
Dominoes EPs (dates unknown) and labelshots - courtesy of Joan K