Joan sent this great collection of Five Keys mp3s – all from recordings made while they were with Aladdin Records. Many have been ripped from original discs – both 45 rpm and 78 rpm, so, yes, there is some "surface noise". The bitrate varies, but there is nothing lower than 128 kbps. Beneath the tracklist you'll find Joan's explanation of the provenance of each track, although I reckon that track 18 sounds like a 78 rpm rip.
There's Inkspots influenced ballads and rockin' jump tunes. The Five Keys were an outstanding R&B group as you can hear by downloading this selection.
Ripped from vinyl, shellac and what-the-heck. Variable bitrates not less than 128 kbps.
Password = greaseyspoon
Download from here:
http://www.megaupload.com/?d=RSWZ59SA
Or here:
http://rapidshare.com/files/134510018/The_Five_Keys_-_Story_Of_Love.rar
1. Yes Sir That's My Baby
2. There Ought To Be A Law (Against Breaking A Heart)
3. If You Only Knew
4. Mistakes
5. White Cliffs Of Dover
6. When You Are Gone
7. (I Don't Stand A) Ghost Of A Chance
8. Yearning
9. Can't Keep From Crying
10. I'm So High
11. Will My Heart Stand A Chance
12. Do I Need You
13. Deep In My Heart
14. Darling
15. Old McDonald
16. Come Go My Bail Louise
17. I Cried For You
18. How Do You Expect Me To Get It
19. My Love
20. Why Oh Why
21. Story Of Love
22. Someday Sweetheart
23. How Long
24. I Hadn't Anyone 'Til You
25. With A Broken Heart
26. Going Downtown (8-9-10)
27. Mama (Your Daughter Told A Lie On Me)
Notes:
1 - Yes Sir That's My Baby - Released on Aladdin Single 3118
2 - There Ought to Be A Law (Against Breaking A Heart) - Released on Aladdin Single 3175
3 - If You Only Knew - Unreleased
4 - Mistakes - Released on Aladdin Single 3131
5 - White Cliffs Of Dover - Unreleased
6 - When You're Gone - Unreleased
7 - (I Don't Stand A) Ghost Of A Chance - Unreleased
8 - Yearning - Unreleased
9 - Can't Keep From Crying - Unreleased
10 - I'm So High - Released on Aladdin Single 3204
11 - Will My Heart Stand A Chance - Unreleased
12 - Do I Need You - Unreleased
13 - Deep In My Heart - Released on Aladdin Single 3245
14 - Darling - Released on Aladdin Single 3119
15 - Old McDonald - Released on Aladdin Single 3113
16 - Come Go My Bail Louise - Released on Aladdin Single 3167 From 78 collection
17 - I Cried For you - Released on Aladdin Single 3158 From 78 collection
18 - How Do You Expect Me To Get It - Released on Aladdin Single 3245
19 - My Love - Released on Aladdin Single 3263 From 78 Collection
20 - Why Oh Why - Released on Aladdin Single 3263 From 78 collection
21 - Story Of Love - Released on Aladdin Single 3312
22 - Someday Sweetheart - Released on Aladdin Single 3228
23 - How Long - Released on Aladdin Single 3131
24 - I Hadn't Anyone 'Til You - Released on Aladdin Single 3136
25 - With A Broken Heart - Released on Aladdin Single 3085
26 - Going Downtown (8-9-10) - Unreleased
27 - Mama (Your Daughter Told A Lie On Me) - Released on Aladdin Single 3175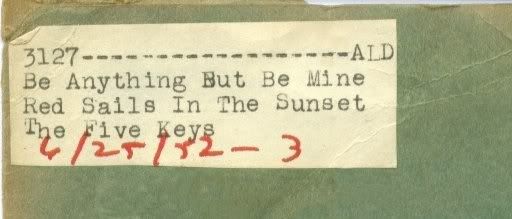 Listen to "Story of Love":