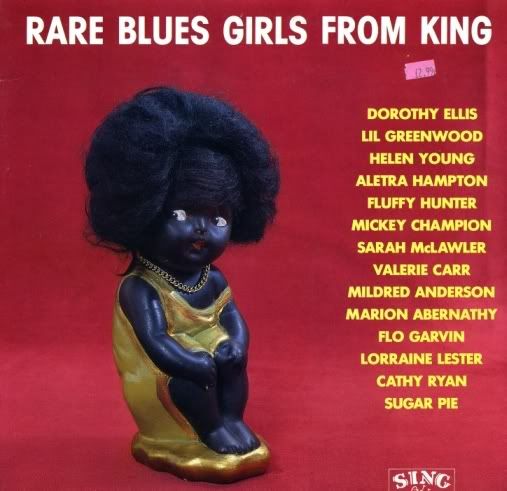 This 1988 LP from Official compiles sides by mostly little known women blues singers for the King and Federal labels. The bulk of the recordings date from the early to mid 1950s and what really stands out is the calibre of the R&B combos on these tracks. A glance at the track list is an R&B fan's delight as names like Earl Bostic, Lucky Millinder, Roy Milton, Bill Doggett, Duke Hampton and Gene Redd (the vibes player in the Earl Bostic band) catch the eye.
And there's more good news for fans of swingin' blues bands. Dorothy Ellis is backed by musicians from the Johnny Otis band of the early 50s including Ben Webster, Pete "Guitar" Lewis and Devonia Williams. The frantic Lil Greenwood track "Grandpa Can Boogie Too" features Joe Lutcher on alto sax. Fluffy Hunter's bluesy "Climb The Wall" features red hot backing from The Buddy Banks Sextet and Sarah McLawler and the excellent Flo Garvin are backed by Sonny Thompson and Jimmy Coe. Sugar Pie is of course Sugar Pie De Santo and the band on her track is The Preston Love Orchestra which includes Pete "Guitar" Lewis, Ernie Freeman, Plas Johnson and Floyd Turnham.
A special word about Marion Abernathy's "Undecided". This was recorded in late December 1947 when King were frantically stockpiling recordings as a Musicians' Union strike was due to begin on January 1st 1948. The band in the studio was led by Hot Lips Page with Hal Singer and Tom Archia on tenor saxes. The same band also recorded a series of sides with Wynonie Harris on the same day they recorded with Ms Abernathy. A few days later a slightly slimmed down version of the same band would cut "Good Rockin' Tonight" with Mr Harris.
Ripped from vinyl at 320 kbps. Password = greaseyspoon
Download from here:
http://rapidshare.com/files/139840962/Rare_Blues_Girls_From_King.rar
Or here:
http://www.megaupload.com/?d=03DWBQ2S
1. He's Gone / Dorothy Ellis
2. Grandpa Can Boogie Too / Lil Greenwood
3. Portrait Of A Faded Love / Earl Bostic & His Orchestra (v- Helen Young)
4. Please Be Good To Me / Duke Hampton & His Orchestra (v- Aletra Hampton)
5. Climb The Wall / Fluffy Hunter
6. You're Gonna Suffer Baby / Roy Milton & His Orchestra (v- Mickey Champion)
7. I Need You Now / Sarah McLawler
8. I Dreamed The Blues / Gene Redd & His Orchestra (v- Valerie Carr)
9. No More In Life / Bill Doggett Trio (v- Mildred Anderson)
10. Undecided / Marion Abernathy
11. I'm On The Outside Looking In / Flo Garvin
12. Let Me Keep You Warm / Flo Garvin
13. You Can't Have Me Now / Lorraine Lester
14. It's A Sad, Sad Feeling / Lucky Millinder & His Orchestra (v- Cathy Ryan)
15. Slowly Going Out Of My Mind / Dorothy Ellis
16. Please Be True / Sugar Pie