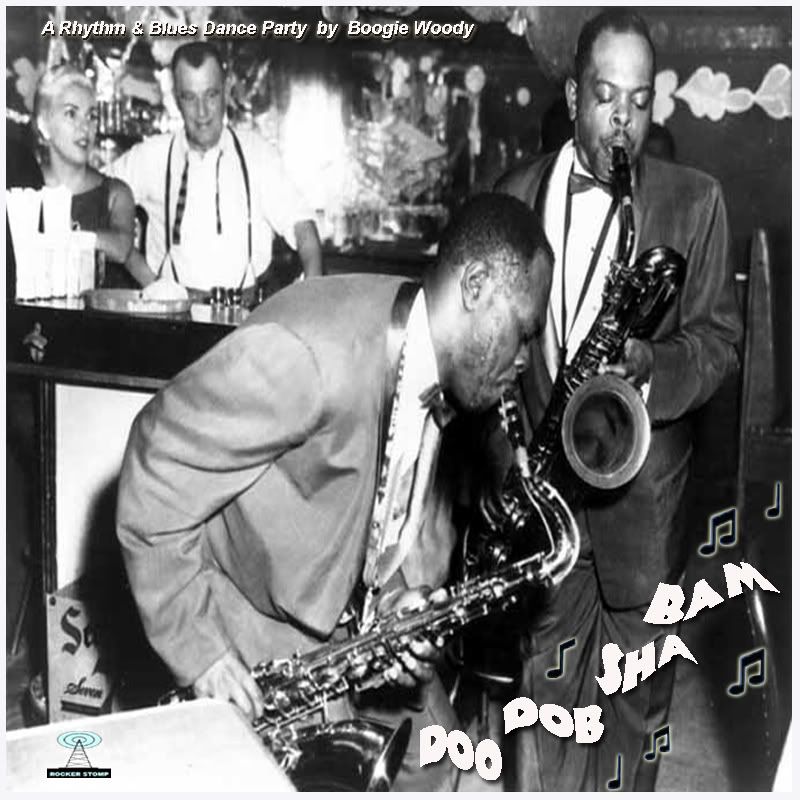 One of my favourite rock 'n' roll blogs is Rocker Stomp where you can find not only music but features on all aspects of the rockin' scene in Spain – cars, clothes, gals and festivals. The music on the blog is in the form of compilations put together by DJs and guest compilers and it covers the gamut of rockin' music including rockabilly, doowop, rhythm 'n' blues and instrumental rock 'n' roll. So you can imagine I was very flattered to be invited to put together a compilation for Rocker Stomp.
What I've come up with is a whole mess of 1950's R&B put together with dancers in mind. Most of the artists and tracks on the comp are well known to long time R&B fans, but there are a few rarities thrown in. If you're fairly new to this kind of music then this is an ideal intro to real rockin' rhythm 'n' blues. If you've already got most of these tracks download anyway and enjoy the program! Thanks to Javi at Rockerstomp for the covers.
Bitrates are between 224 and 320 kbps. No password.
Download from here:
http://rapidshare.com/files/145199343/Doo_Dob_Sha_Bam.rar
Or here:
http://www.megaupload.com/?d=TF1OPJLI
Go to Rocker Stomp here:
http://rockerstomp.blogspot.com/
Tracklist:
1. Rock & Roll - Red Prysock
2. Big Fat Mama - Chuck Higgins
3. Doo Dob Sha Bam - The Spence Sisters
4. Teardrops From My Eyes - Ruth Brown
5. Drive It Home - The Clovers
6. Hey Little Girl - The Larks
7. Camel Walk - T.J. Fowler
8. Slow Walk - Sil Austin
9. It's Love Baby (24 Hours a Day) - Hank Ballard & the Midnighters
10. Oh Babe! – Lucky Millinder with Wynonie Harris
11. Love Don't Love Nobody - Roy Brown
12. Cry Hard Luck - Jimmy Nelson
13. Nervous Man Nervous - Big Jay McNeely
14. Jam Up - Tommy Ridgley
15. Early Morning Blues - Haji Baba & His Arabian Knights
16. Laundromat Blues - The "5" Royales
17. Little Side Car - The Larks
18. Back Biter - T.J. Fowler
19. Walk That Walk - Eddie Bo
20. Jockomo - James "Sugarboy" Crawford
21. Be-Bop Wino - The Lamplighters
22. Wango Blues - Preston Love
23. Driving Home, Part 1 - Paul Gayten
24. Driving Home, Part 2 - Paul Gayten
25. Bloodshot Eyes - Wynonie Harris
26. Butcher Boy - Mr Sad Head
27. Down Boy Down - Wynonie Harris
28. Flip Flop and Fly - Big Joe Turner