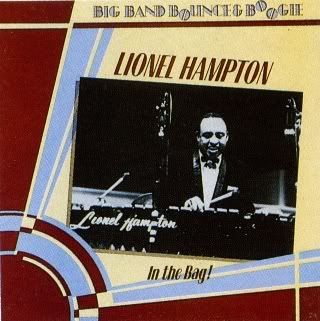 Here is another album in Charly's "Big Band Bounce & Boogie" series, and this is the second of the Lionel Hampton issues in the series. See the earlier post "Leapin' With Lionel" for another helping of the hardest swinging big band of them all.
Tracks 1-12 were recorded between 1942 and 1950 in the heyday of the Hampton outfit and are a mixture of swing, jazz and R&B. Musicians include Illinois Jacquet, Jack McVea, Charles Mingus, Morris Lane, Arnett Cobb, Johnny Griffin and Johnny Sparrow. There's also a fine blues shouting vocal from Sonny Parker on "Hamp's Gumbo No.2".
The final four tracks were recorded live at the Silver Supper Club in Las Vegas in 1963 and are pleasant enough jazz, but don't really stand comparison with the earlier tracks from the great days of swing and early R&B.
Ripped from cassette at 320 kbps. Password = greaseyspoon
Download from here:
http://rapidshare.com/files/143141341/In_The_Bag_.rar
Or here:
http://www.megaupload.com/?d=KH51BV53
1. In The Bag
2. Dig Those Vibes
3. Jack The Fox Boogie
4. How High The Moon
5. Million Dollar Smile
6. Turkey Hop (Parts 1 & 2)
7. Double Talk
8. Empty Glass (Normania)
9. Hamp's Gumbo No 2
10. Mingus Fingers
11. Three Minutes On 52nd Street
12. Hamp's Got A Duke
13. Dancing On The Ceiling
14. Blues For Little 'T'
15. Memories Of You
16. Silver Slipper