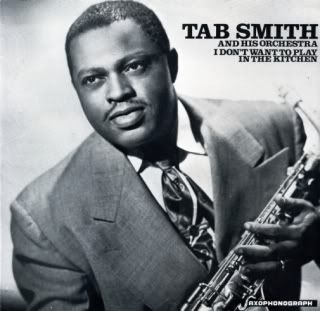 With this compilation of mainly mid 1940s sides by alto sax player Tab Smith we continue our exploration of early jump groups that started with the Buddy Banks post. Tab Smith's music career started in the 1920s with territory bands in the Carolinas and Midwest and really took off when he joined the Lucky Millinder led Mills Blue Rhythm band in 1936.
When the band broke up in 1938 Tab Smith went on to record with (among others) Red Allan, Teddy Wilson, Billie Holiday and Count Basie. In 1942 Tab joined the Lucky Millinder Orchestra and left in early 1944 to form his own small group which usually consisted of ex Millinder sidemen. Tab's group followed the R&B route rather than that of bebop. His swing and jump dominated sound was released on a succession of labels including King, Gotham, Hub, Regis, Manor, Atlantic and Premium. In 1951 he recorded for the United label of Chicago with whom he stayed until 1957. His first release for the label, "Because of You" was a massive hit and set the pattern for most of his subsequent releases – an echo drenched ballad on the A side and a jump number on the B side.
This 1984 Mr R&B LP concentrates on Tab's 1944 – 45 output when his sound was still heavily influenced by big band swing. There are good vocal performances, especially from ex Lucky Millinder vocalist Trevor Bacon. "Echo Blues", recorded for Atlantic in 1949, is a forerunner of the sound that would sell so well for United. Only the last two tracks on this collection are from the United era.
Ripped from vinyl at 320 kbps.
Download from here:
http://www50.zippyshare.com/v/hXm3LBpZ/file.html
1. I Don't Want To Play In The Kitchen (v – Roebie Kirk)
2. Tab Steps Out
3. All Night Long (v- Trevor Bacon)
4. Roebie's Blues (v – Roebie Kirk)
5. Riffin' The Bass
6. Granny Dodging At The Savoy
7. You Lovely You (v- Trevor Bacon)
8. Rosa Lee (v- Trevor Bacon)
9. On The Sunny Side Of The Street
10. Fat Mouth Blues (v- Betty Mays)
11. Darling, You're All I Need (v – Tab Smith)
12. Jumpin' At The Track
13. Morning Blues (v – Jack Galbreath)
14. Echo Blues
15. Feel Like I Wanna Die (v- Ray King)
16. Boogie Joogie