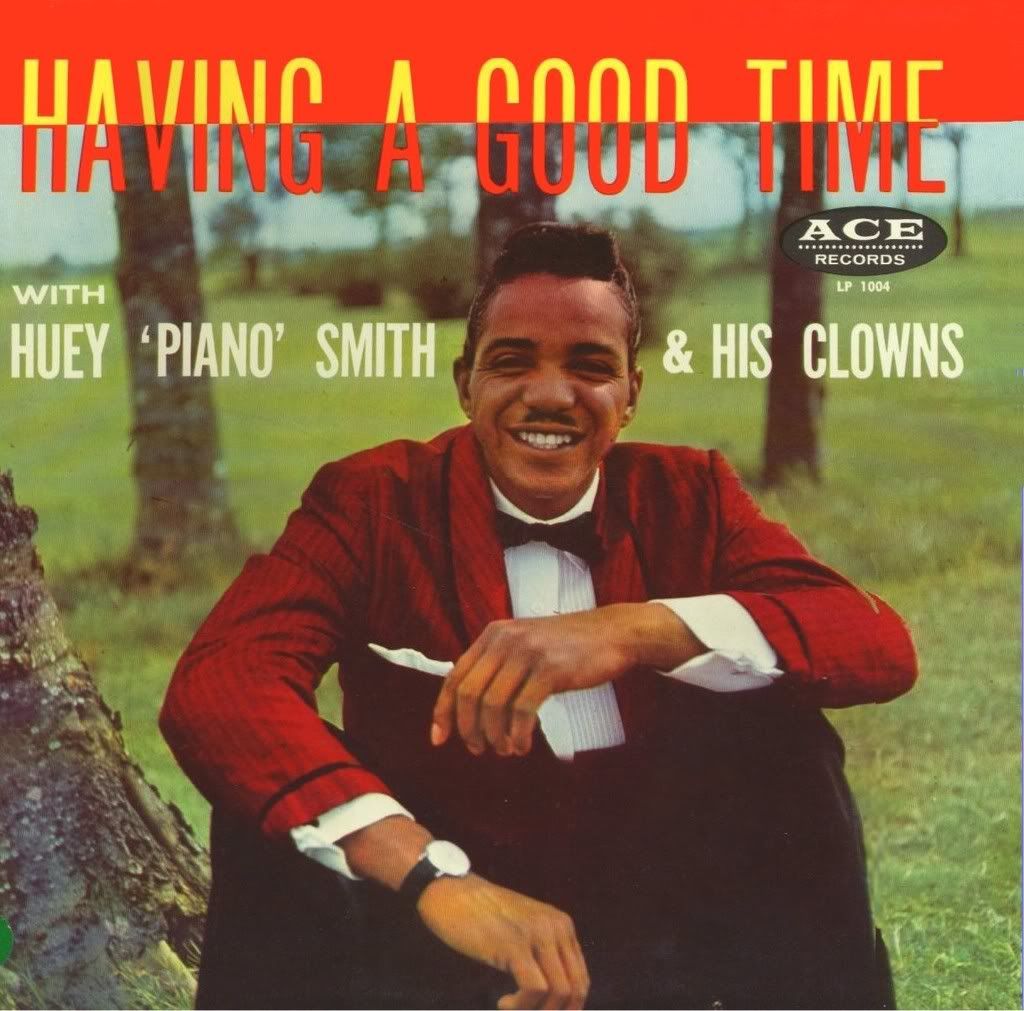 Joan K has provided these rips from 1950s vinyl and a folder of label scans.
In the post "The Roots Of Rock 'N Roll", a 2LP set of Savoy sides, the first solo recordings of Huey 'Piano' Smith were included. Recorded in June 1953, they were pretty dreadful. So how come Huey Smith started making some of the best ever New Orleans R&B / Rock 'n' Roll recordings just three years later?
Huey Smith's first recordings were actually made for Imperial in 1951 when he was part of a small group which included guitarist Eddie Jones who would soon become famous as Guitar Slim. In truth these Imperial recordings were no great shakes either. Both musicians' fortunes changed when they met Johnny Vincent who was a talent scout for Specialty Records. Guitar Slim was the first to benefit as Johnny split him from Huey and teamed him up with the Lloyd Lambert band plus Ray Charles on piano to record the hit "The Things I Used To Do".
Meanwhile Huey had recruited Earl King as replacement guitarist and singer. With Huey on piano, Earl recorded some sides for Specialty and then for Johnny Vincent's new label, Ace. Huey also recorded an uncredited B side for Eddie Bo ("We Like Mambo") on Ace and in 1956 recorded his first solo single for Ace, "Little Liza Jane" / ""Everybody's Whalin'". With these sides Huey established the formula which would bring him chart success: simple lyrics, catchy choruses and an insistent dance beat. Ensemble vocals helped disguise Huey's own rather weak vocal contributions.
Bobby Marchan was recruited to Huey's group which was by now called The Clowns and in 1957 they recorded the massive hit "Rockin' Pneumonia and the Boogie Woogie Flu". More hits which followed the same formula ensued: "High Blood Pressure", "Don't You Just Know It" and "Don't You Know Jockomo". The LP "Having A Good Time" was released in 1959.
Joan's rips are from 1950s vinyl with some surface noise, and, yes, the occasional sound of the needle hitting the shiny wax disc. Moments in time captured forever. Thanks Joan!
Download from here:
http://rapidshare.com/files/141561707/Having_A_Good_Time__Ace_LP_1004_.rar
Or here:
http://www.megaupload.com/?d=JU0SSFQT
1. Rockin' Pneumonia And The Boogie Woogie Flu
2. Little Chickee Wah Wah
3. Little Liza Jane
4. Just a Lonely Clown
5. Hush Your Mouth
6. Don't You Know Yockomo
7. Havin' A Good Time
8. Don't You Just Know It
9. Well I'll Be John Brown
10. Everybody's Whalin'
11. High Blood Pressure
12. We Like Birdland