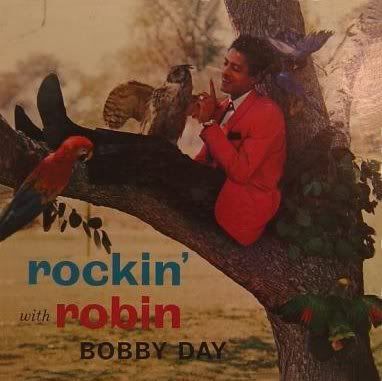 A Joan K post in response to an appeal in the comments section!
Bobby Day was a founder member of vocal group The Hollywood Flames which was formed in 1949. They spent most of the 1950s jumping from label to label until they had recorded for just about everyone on the West Coast, and also went through a bewildering series of personnel changes.
In late 1957 The Flames had a smash hit on Ebb with "Buzz Buzz Buzz" and just as that record was entering the charts they recorded "Little Bitty Pretty One" (written by Bobby Day) as Bobby Day and The Satellites for Leon Rene's Class records. Unfortunately for Bobby the record was quickly covered by The Lamplighters (doing business as Thurston Harris and The Sharps) on Aladdin and it was their version which had the pop and R&B success while Bobby Day's original failed to chart. It's a cutthroat business, and if you ain't first you're last.
Class persevered with Bobby and were rewarded when he had a massive pop and R&B hit with "Rockin' Robin". There is a God after all.
Bobby went on to become one half of Bob & Earl on the hit "Gee Whiz", but had been replaced by another Bobby (Relf) by the time "Harlem Shuffle" came along.
This LP was issued in 1958. It's a mix of R&B, rock and roll, and slightly cloying pop as Class sought to keep Bobby in the charts. The sound quality on these tracks is good, except for track 4 which has loads of clicking and popping . Joan once again provides us not only with sounds but also label scans.
Ripped at 160 kbps (except track 4: converted from m4a). Password = greaseyspoon
Download from here
http://rapidshare.com/files/117822280/Rockin__With_Robin.rar
1. Rockin' Robin
2. Darling If I Had You
3. Sweet Little Thing
4. Saving My Life For You
5. Little Turtle Dove
6. Over And Over
7. Little Bitty Pretty One
8. Come Seven
9. Honeysuckle Baby
10. When The Swallows Come Back To Capistrano
11. Beep Beep Beep
12. So Long Baby
And now for a selection from the folder of Joan's label scans: