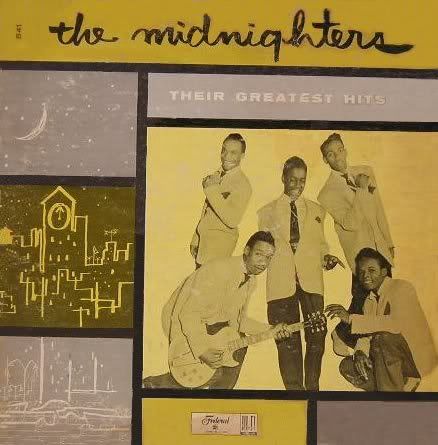 This the third of the albums that Joan sent recently. A 1956 Federal compilation of Midnighters tracks, including some early stuff recorded when they were The Royals. This is definitely not the sweet, romantic doowop of the last few posts. Sleazy lee-rics, shrieking sax breaks and clanging electric guitar are on offer. Vintage bebopwino music!
These sides were ripped from original 45rpm singles and consequently there is rather a lot of surface noise present. But we don't mind, do we? Originally ripped by Joan to m4a format, subsequently converted to mp3, so there are 2 download links to let you opt for the format of your choice. As ever, Joan has supplied label shots of the original discs. Thanks again Joan!
Download m4a version from here:
http://rapidshare.com/files/117223249/Midnighters_Their_Greatest_Hits_m4a.rar
Download mp3 version from here:
http://rapidshare.com/files/117220737/Midnighters_Their_Greatest_Hits.rar
Password on both versions is greaseyspoon.
1. Work With Me Annie
2. Moonrise
3. Sexy Ways
4. Get It
5. Switchie Witchie
6. It's Love Baby (24 Hours A Day)
7. Annie Had A Baby
8. She's The One
9. Annie's Aunt Fannie
10. Crazy Lovin' (Stay With Me)
11. Henry's Got Flat Feet
12. Tore Up Over You