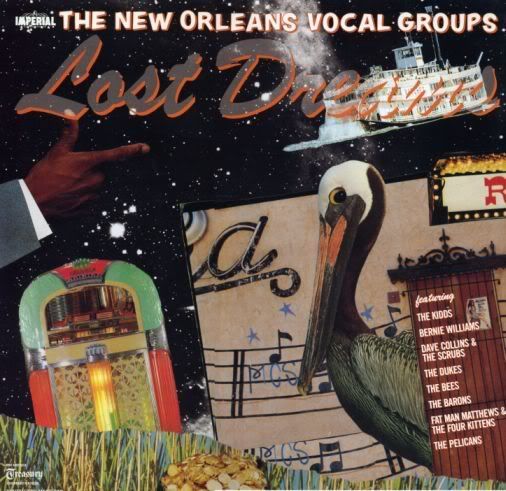 Lew Chudd's Los Angeles based indy label Imperial had a strong presence in New Orleans from 1949 onwards when Dave Bartholomew became local A&R man and artists such as Fats Domino, Smiley Lewis and Sugarboy Crawford were signed.
This 1987 EMI vinyl album gathers sides recorded by New Orleans vocal groups for Imperial mostly between 1952 and 1956. There's some fine rockin' rhythm 'n' blues here so grab these swingin' sounds!
I posted this LP on Rockhall many months ago but I've re-upped it with a new back cover scan plus label scans of vintage Imperial 45s by Joan K. Thanks again Joan.
Ripped from vinyl at 320 kbps. Password = greaseyspoon
Download from here:
http://rapidshare.com/files/117335087/Lost_Dreams_The_New_Orleans_Vocal_Groups.rar
Extra link for rapidshare haters:
http://www.megaupload.com/?d=VMKAOBNK
1. Drunk Drunk Drunk / The Kidds
2. Why Fool Yourself / Bernie Williams
3. Bluesy Me / Dave Collins & The Scrubs
4. Lost Dreams / The Dukes
5. Sunny Side Of The Street / The Bees
6. Eternally Yours / The Barons
7. Cotton Picking Hands / The Dukes
8. Later, Baby / Fat Man Matthews & The Four Kittens
9. Boom Boom / The Barons
10. Teardrop Eyes / The Dukes
11. Ain't Gonna Do It / The Pelicans
12. Shake The Dice / The Barons
13. Darling, Please / The Bees
14. Last Ride / The Dukes