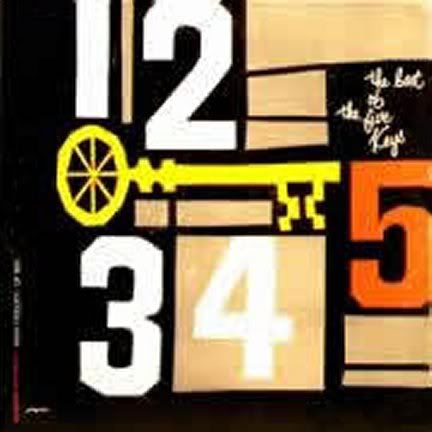 Thanks to Joan once again for these sound and picture files. The Five Keys are one of my favourite vocal groups – right up there with The Orioles, The "5" Royales, The Clovers, The Midnighters and the Clyde McPhatter–led versions of The Dominoes and The Drifters. With twin tenors Rudy West and Maryland Pierce, they were capable of handling both tender ballads and rocking jump tunes.
This album was released on Aladdin in 1956, 2 years after the group had left the label, stopping briefly at the RCA Victor subsidiary Groove for one session which was never released before moving on to Capitol where they recorded successful sides like "Ling Ting Tong", "Close Your Eyes" and "Out of Sight, Out of Mind". The Five Keys first chart success had been with Aladdin in 1951 when their second release "Glory of Love" reached number 1 in the R&B charts.
This album was re-released in 1957 on Aladdin's budget price subsidiary Score, with a new title "On The Town" and new cover artwork. See Joan's scans below for this cover and a variety of label shots.
Ripped at various bitrates. Password = greaseyspoon
Download from here:
http://www.megaupload.com/?d=KV081XZ7
Or here:
http://rapidshare.com/files/129683383/The_Best_of_The_Five_Keys.rar
1. The Glory Of Love
2. Oh! Baby
3. My Saddest Hour
4. Hucklebuck With Jimmy
5. These Foolish Things (Remind Me Of You)
6. Christmas Time
7. Red Sails In The Sunset
8. Too Late Baby
9. Teardrops In Your Eyes
10. Be Mine
11. Love My Lovin'
12. Serve Another Round