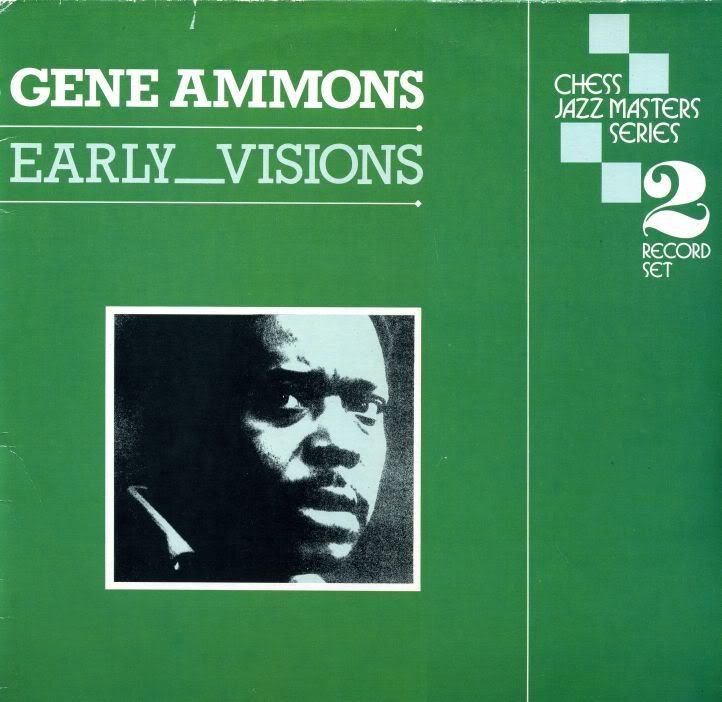 Born in Chicago in 1925, tenor sax player Gene Ammons was the son of boogie woogie pianist Albert Ammons. At the age of 18 he joined the band of trumpet player King Kolax and then moved to the bebop influenced band of Billy Eckstine.
When the Eckstine aggregation broke up Ammons started working the clubs in Chicago, among them the Mocambo Lounge owned by Leonard and Phil Chess who had started Aristocrat Records, which soon became Chess Records. Naturally Gene was given the chance to record for the Chess brothers in 1948 (he'd already recorded for Mercury in 1947, succeeding in getting an R&B hit with "Red Top"). The first 4 sides in this collection are from that October 1948 session and include some tenor sax battles with Tom Archia. Sax battles were a feature of Ammons' career – with Dexter Gordon when they were both in the Eckstine band, and later with Sonny Stitt when they were both recording for Prestige.
There was a further Chess session in 1949 (tracks 5-8 on disc 1) which included a couple of rather forgettable vocal sides by Christine Chatman and Mary Graham ("Do You Really Mean It?" and "Bless You"). From that same session "Once In a While" set the pattern for many of Gene's subsequent sides – a romantic ballad with added echo. In 1950 Gene had his biggest R&B hit with "My Foolish Heart". The sides featured here were recorded between 1948 and 1951. In the latter part of this period Gene was also recording for Prestige with whom he had further R&B chart success in 1951 with "Jug". Gene's Prestige sides will feature in a future post.
Joan has supplied some label shots from some of Gene's Chess singles. She is simply indefatigable!
Ripped from vinyl at 320 kbps. Password = greaseyspoon
Download from here (one BIG download as Rapidshare has upped its file size limit):
http://rapidshare.com/files/127957508/Early_Visions.rar
or from here:
http://www.megaupload.com/?d=733EK6MK
Disc 1
1. Swinging For Xmas
2. The Talk Of The Town
3. The Battle
4. Jam For Boppers
5. Do You Really Mean It?
6. Bless You
7. Stuffy
8. Once In A While
9. Pennies From Heaven
10. Cha Bootie
11. More Moon
12. The Last Mile
Disc 2
1. Goodbye
2. Ten Or Eleven
3. It's You Or No One
4. My Foolish Heart
5. Jug Head Ramble
6. You Go To My Head
7. Baby Won't You Please Say Yes
8. Don't Do Me Wrong
9. Prelude To A Kiss
10. Can Anyone Explain
11. You're Not The Kind
12. Happiness Is A Thing Called Joe