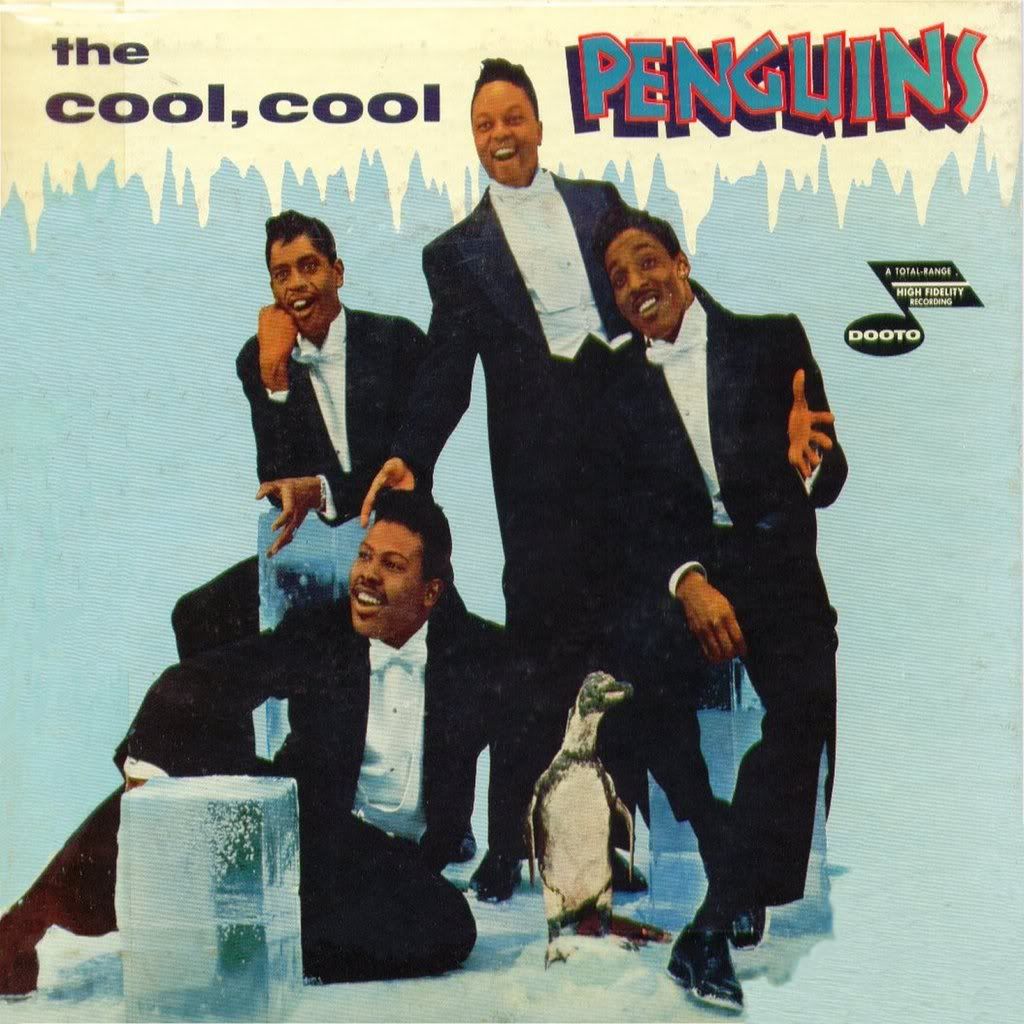 Thanks to Joan K for the sights and sounds of this Dootone album from 1958.
You gotta love the album art – 4 guys in penguin suits, a block of ice, a stuffed penguin, it just has to be The Cadillacs! No, only kidding! So let us now turn our attention to The Penguins.
Founded in Los Angeles in late 1953 by tenor Cleveland Duncan and bass/baritone Curtis Williams, The Penguins signed for Dootsie Williams' Dootone Records in early 1954. Curtis Williams had been working on a song with Gaynel Hodge of The Hollywood Flames for some time prior to inking the pact with the Dootone diskery prexie. That song, "Earth Angel", would soon become one of the top selling R&B records of all time. Released in the autumn of 1954 as the B side to "Hey Senorita", its progress up the R&B charts was hesitant at first, but by January 1955 it had reached number one.
This was the era of the cover version, when the major record companies would latch on to successful R&B records and produce sweetened versions which would then pick up the pop chart action. Sure enough several cover versions of "Earth Angel" duly appeared, the most successful of which was that by The Crew Cuts on Mercury which reached number 3 in the pop charts. But this time round there was a twist to the tale as The Penguins' original version also shot up the pop charts, reaching number 8. "Earth Angel" has subsequently come to be regarded as an important record in the rise of rock and roll as it proved that genuine R&B could sell big in the pop market.
However, there were to be no more big hits for The Penguins. They signed a management deal with Buck Ram who took them to Mercury Records. Ram also owned (the name, the royalties, everything) a fairly nondescript group called The Platters who had been recording unsuccessfully on Federal, and he took these apparent second raters with him to Mercury as part of The Penguins deal. It was The Platters who benefited from Ram's songwriting, producing and promoting talents as they had a huge hit with "Only You" and were soon speeding down the highway to international stardom. The Penguins, who had refused to sign up to the kind of contract that Ram liked, continued to record unsuccessfully for Mercury for a couple of years before winding up back at Dootone, which brings us to this album "The Cool, Cool Penguins" which was released in 1958.
The sides here were recorded in 1957 and 1958 and are good rock and roll / doowop material. Ripped from vinyl by Joan, there is some surface noise present but the sound quality is generally good. Joan has included scans from one of 3 EPs which were released (in 1958) featuring the tracks from the LP.
For the full story of The Penguins and "Earth Angel" go to Marv Goldberg's site.
Ripped from vinyl at 192 kbps. Password = greaseyspoon
Download from here:
http://rapidshare.com/files/126864207/The_Cool__Cool_Penguins.rar
1. Do Not Pretend
2. If You're Mine
3. Cold Heart
4. Want Me
5. Sweet Love
6. Let Me Make Up Your Mind
7. Money Talks
8. Lover Or Fool
9. Butterball
10. Heart Of A Fool
11. Be My Lovin' Baby
12. That's How Much I Need You