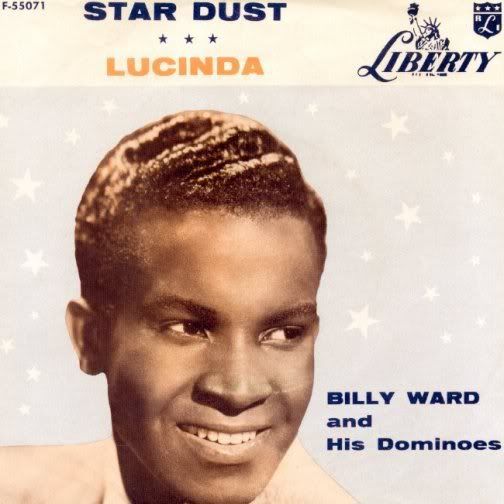 Joan K sent these Billy Ward & The Dominoes mp3s and label scans a while back but I thought I would delay posting them as I knew that Marv Goldberg would be writing about The Dominoes in Blues & Rhythm magazine. The second part of Marv's story on The Dominoes is in the current edition of Blues & Rhythm and you can also read about them on his website at:
http://www.uncamarvy.com/Dominoes/dom01.html
The first four tracks on Joan's collection were recorded for Jubilee while The Dominoes were still contracted to Federal / King. That contract expired in 1956 and the group signed up with Decca (tracks 5 – 10). Their first release, "St Therese of the Roses", with Jackie Wilson on lead was a substantial pop hit but they failed to find a follow up hit while with Decca. In early 1957 Jackie Wilson left following the almost inevitable dispute with strict disciplinarian Billy Ward. The group was then signed to Liberty Records with Gene Mumford of The Larks being brought in as lead singer.
"Stardust", their first release on Liberty, was a big success in the pop charts as was their next release "Deep Purple". By this stage The Dominoes were no longer an R&B group. It had long been Ward's ambition to turn them into a pop group and Las Vegas lounge act and he had now achieved his aim. There were further changes in personnel, including the departure of Mumford (replaced by Monroe Powell) but no further chart success. The Dominoes finished with Liberty and moved to ABC Paramount in 1960 for one recording session.
As I've already pointed out, the full story can be read in great detail in Marv Goldberg's articles. It is a story which fascinates as Ward ditched the raw gospel influenced R&B sound of the group's early days with Clyde McPhatter as lead singer in a ruthless pursuit of pop success. The continual personnel changes and transformation of the group into just another lounge act did in fact bring such success but it was brief and the final days of the group do not make for very happy reading for fans of rhythm and blues.
One LP was released during the group's Decca stay and Joan has sent a scan of the cover. The Liberty album "Sea of Glass" was a collection of religious songs. Many thanks again to Joan for this post.
Ripped from 1950s vinyl at 192 kbps. Surface noise present.
Download from here:
http://www22.zippyshare.com/v/3632532/file.html
The tracks on this collection are arranged in chronological order of release, each A side being followed by its B side.
1. Gimme Gimme Gimme
2. Come To Me Baby
3. Sweethearts On Parade
4. Take Me Back to Heaven
5. St Therese Of The Roses
6. Home Is Where You Hang Your Heart
7. I Don't Stand A Ghost Of A Chance
8. To Each His Own
9. When The Saints Go Marching In
10. September Song
11. Stardust
12. Lucinda
13. Deep Purple
14. Do It Again
15. Sweeter As The Years Go By
16. Solitude
17. Please Don't Say No
18. Behave Hula Girl
Tracks 1-4 were recorded for Jubilee in September 1954 and released in 1954/55.
Tracks 5-10 were recorded for Decca in June 1956 and January 1957. They were released between June 1956 and December 1957.
Tracks 11-18 were recorded for Liberty between March 1957 and some time in late 1958 or early 1959. They were released between April 1957 and February 1959.