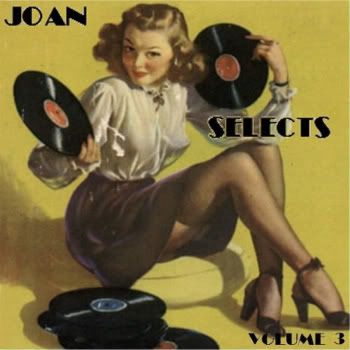 Great googa mooga! It's that time already! Joan emerges blinking from her darkened boxroom into the sunlight to deliver another heap of mp3s ripped from original forty-fives and as the icing on the cake there's a folder of jpegs of label scans that will make doowop fans weep with pleasure. We must all thank Joan profusely for spending so much time and effort in giving us these rare sounds and pics. But let us not detain Joan any longer, for the turntable, PC and scanner await in the boxroom (well, it's more a windowless, airless cupboard really) and there are piles upon piles of old waxings still to be processed. The fans are already demanding volume four, so it's back to work for you Joan, while I ease myself into my luxurious leather armchair here in the Bebopwino Chief Executive's Office and try to work out how to make a killing from the credit crunch.
But seriously folks … this is a real stormer of a compilation which ranges across the whole spectrum of vocal group R&B from teen heartbreak to the mayhem of Young Jessie's wild tale of a murderer on the lam, "Lonesome Desert". There are plenty more good rockers including The Cameos, the Olympics, The Turks and The Dells. The Five Bills bring the show to a nice close with the affecting "Waiting, Wanting." There is a fair amount of surface noise on some of these tracks and "A Lovely Way To Spend An Evening" by The Caprisians has a few skips. Joan describes it as a "really trashed 45", and there's no way to get a better rip as it has already received maximum TLC. But that doesn't bother real Bebopwinos.
Many thanks to Joan for bringing these blasts from the past back to life.
Ripped from vinyl at mostly 128 kbps. Password = greaseyspoon
Download from here:
http://www68.zippyshare.com/v/pE558Vd7/file.html
1. Come On Up To My Room – The Majors – Derby 763
2. Gloria, My Darling – The New Yorkers 5 – Danice 801
3. Have You Ever Met An Angel - The Valtones – Gee 1004
4. Here's That Rainy Day – The Intervals – Class 304
5. I Cross My Fingers – Bennie Woods & the Rockin' Townies – Atlas 1040
6. I Love My Baby – The Tokens (w/ Neil Sedaka) - Melba 104
7. Doll Face – The Vibranaires – After Hours 104
8. Your Love – The Olympics – Demon 1514
9. Bohemian Daddy – The Marquis – Onyx 505
10. Jeannie – The Thrashers - Masons 0-1
11. There Goes The Boy – The Lydells – Pam 103
12. Letter To A Schoolgirl – The Delacardos – Elgey 1001
13. Love Bells – The Five Willows – Pee Dee 290
14. A Lovely Way To Spend An Evening - The Caprisians – Indigo 109
15. Let's Do The Razzle Dazzle –The Rip-Chords – Abco G105
16. Baby Doll – The Four Dukes –
17. Come Back To Me - The Teardrops – Sampson 634
18. These Four Letters- The El Pollos – Studio 999
19. Walkie Talkie Baby – The Levees – Karen 1004
20. You Are – Nolan Strong and the Diablos – Fortune 519
21. Love Me My Darling – The Sharps – Two Mikes 101
22. Down In Cuba – The Royal Holidays - Herald 536
23. Lonesome Desert – Young Jesse (bb the Flairs) – Modern 921
24. Sally's Got A Sister – The Turks feat. Bill Pinkney – Phillips Intnl 3524
25. Something Cool – The Academics – Elmont 1001
26. The Night You Said Goodbye – The Four Deeptones – Coral 65062
27. I'll Find Her – The Dukes – Imperial
28. Wait Up – The Cameos – Dean 504
29. Q-Bop, She-Bop (Cubop Chebop) The Dells – Veejay 251
30. Waiting, Wanting – The Five Bills – Brunswick 84004