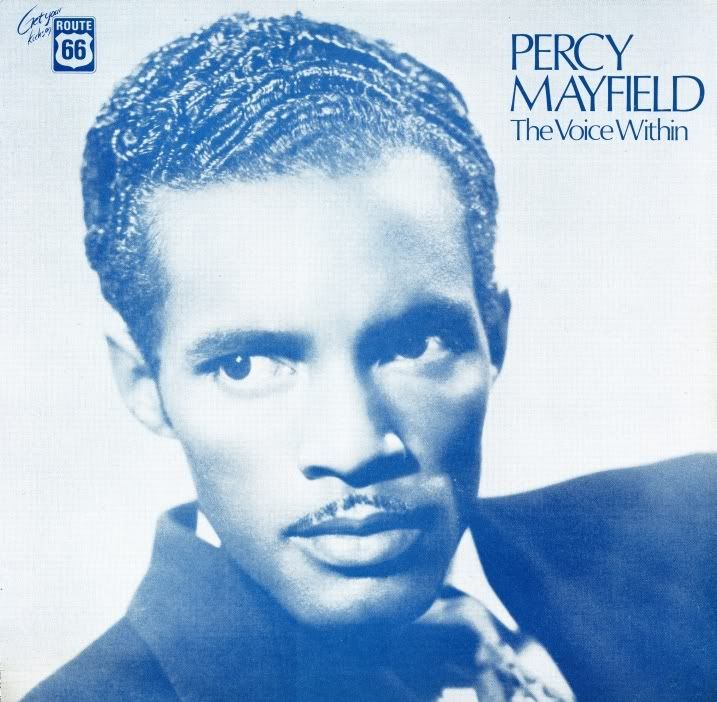 One for The Hound. I picked this up second hand in one of Glasgow's few remaining independent record stores, just a couple of months before it closed for good. A store situated in what was once the closest thing that Glasgow had to a Bohemian quarter, where you could while away a whole afternoon or more checking out record shops, book shops and pubs. But no longer, for now every other shop seems to be a coffee/fast food outlet owned by some big franchising company. Fellow Glaswegians will recognise that I'm talking about Byres Road, close to the University. Maybe it's the time of year for nostalgia as the nights begin to draw in and the sun stays low in the sky. But "nae man can tether time or tide", as the bard says and I'm sure that Percy Mayfield would agree for, like Robert Burns, Mr Mayfield was wont to wax philosophical in the midst of his song writing.
So heeding the words of the lamented Rabbie, we move on to the contents of this superfine Mr R&B compilation. This is an outstanding collection of blues, blues ballads and the occasional up-tempo jump tune from one of the West Coast's greatest singer/songwriter talents. Percy's recording career started on the small Supreme label in 1949 where he had a big local hit with "Two Years Of Torture". The first two tracks on this disc are from Percy's spell with Supreme and like the Specialty tracks which make up most of the rest of the album, they were arranged by Maxwell Davis. Fans of the much underrated Maxwell will be pleased to learn that we are all in for a special treat very soon thanks to an anonymous donor to the blog.
Percy Mayfield signed for Specialty in 1950 and had a massive hit with "Please Send Me Someone To Love". In August 1952 he was badly injured in a car crash in which he sustained severe facial injuries. However his recording and performing career continued. In the mid-fifties he left Specialty and released occasional discs on a variety of labels. "Are You Out There" and the previously unissued "My Story About A Woman" are from a 1955 session for Chess, while "The Bluest Blues" was released on John Dolphin's Cash label in 1956 but may date from a much earlier session for Supreme. Percy eventually became a contracted songwriter for Ray Charles, penning "Hit The Road Jack" and other great songs.
As is the case with most of these wonderful Mr R&B LPs from the 1980s, this album has superb liner notes including an extensive interview with Percy. The notes are contained on the back of the record cover and on one side of the inner sleeve and I have included scans in the download. The 1980s? Now that was a time.
Ripped from vinyl at 320 kbps.
Download from here:
http://www18.zippyshare.com/v/yMV2UzRx/file.html
1. How Wrong Can A Good Man Be
2. Leary Blues
3. The Hunt Is On
4. Hopeless
5. Two Hearts Are Greater Than One
6. Lonesome Highway
7. I Dare You, Baby
8. How Deep Is The Well
9. The Lonely One
10. The Bachelor Blues
11. Sugar Mama - Peachy Papa
12. The Voice Within
13. My Heart
14. Are You Out There?
15. The Bluest Blues
16. My Story About A Woman *
* previously unissued