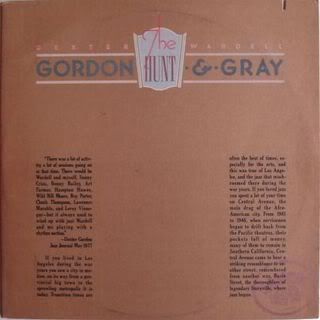 Many thanks to
Billy K
for sending this Savoy Jazz double LP to post here.
Each of the four tracks occupied one side of the original album. They are jam sessions, principally tenor sax battles between Dexter Gordon and Wardell Gray, recorded live in front of an audience at the Brown Bomber, Los Angeles, in July 1947. Other musicians on the sessions include Howard McGhee, Trummy Young, Sonny Criss, Barney Kessel and Hampton Hawes.
Billy K has included scans of the album art, featuring an essay by Ross Russell which wonderfully evokes the Central Avenue scene in Los Angeles and the arrival of bebop on the West Coast.
The original rip from vinyl is in m4a format (160 kbps) and can be downloaded from Billy K's link here:
link deleted by mediafire
I used the freeware program Any Audio Converter to produce an mp3 version (192 kbps ) which you can download from here:
http://www17.zippyshare.com/v/27721171/file.html
1. Disorder At The Border
2. Cherokee
3. Byas-a-Drink
4. The Hunt