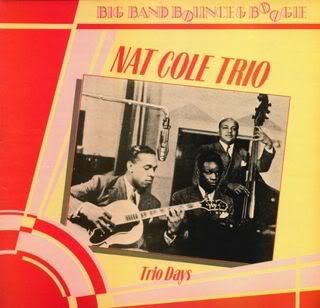 Early Nat "King" Cole Trio sides recorded for Decca in late 1940 and early 1941. The line up is Nat "King" Cole – piano and lead vocals, Oscar Moore – guitar and ensemble vocals, Wesley Prince – bass and ensemble vocals.
These are mostly jazzy, jivey numbers with plenty of instrumentals, ensemble vocals and hepcat lyrics. The early version of "Sweet Lorraine" hints at the future career of Cole as a peerless ballad singer.
This was a 1984 LP in the Charly jazz subsidiary Affinity's "Big Band Bounce & Boogie" series although what this album has to do with big bands (or boogie) defeats me. I guess it has got plenty bounce, though!
Ripped from vinyl at 320 kbps.
Download link:
https://www49.zippyshare.com/v/RfuzkA6G/file.html
1. Honeysuckle Rose
2. Sweet Lorraine
3. This Side Up
4. Gone With The Draft
5. Call The Police
6. That Ain't Right
7. Are You Fer It?
8. Hit That Jive Jack
9. Early Morning Blues
10. Babs
11. Scotchin' With Soda
12. Slow Down
13. I Like To Riff
14. This Will Make You Laugh
15. Hit The Ramp
16. Stop, The Red Light's On
Please note: this LP was re-upped in June 2016 in a new post with more information here:
https://bebopwinorip.blogspot.com/2016/06/the-nat-king-cole-trio-trio-days.html