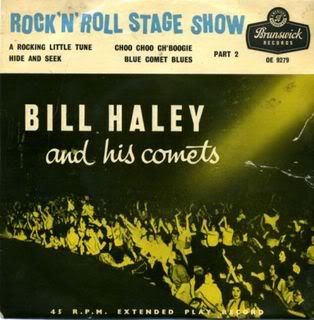 Another vintage Bill Haley and his Comets EP from the fabulous fifties. There's some clicking and crackling on this one, which I guess is understandable as it is over 50 years old. The sleevenotes refer to a forthcoming tour of the western United States, Canada and Europe in early 1957.
Two things struck me as I listened to this record. Firstly the standard of the music. These guys really rock. Secondly the standard of sound reproduction. CDs and mp3s just can't compare to original vinyl discs when it comes to delivering gutsy whomp. This is the best way to experience the big beat.
This EP and the earlier one I posted belonged to my pal's dad. They've been lying in my record cupboard for years. I'd noticed that inside the sleeve of this record there was a second disc which I thought might be Rock'N'Roll Stage Show part 1. I pulled it out last night and found that it wasn't. It was this: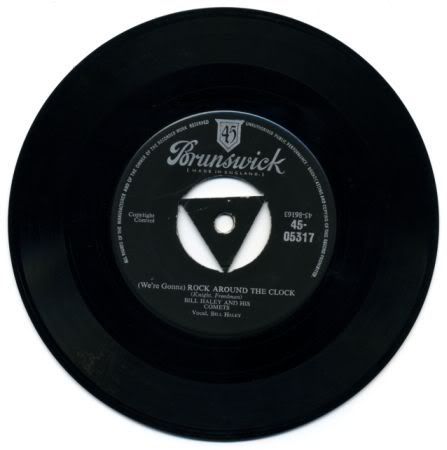 The original "(We're Gonna) Rock Around The Clock" - rock 'n' roll Nirvana! So here is this piece of musical history for you to hear in something like its original form.


Rock 'N' Roll Stage Show part 2:


1. A Rocking Little Tune
2. Hide And Seek
3. Choo Choo Ch'Boogie
4. Blue Comet Blues
or

1. (We're Gonna) Rock Around The Clock
2. Thirteen Women
or


No password