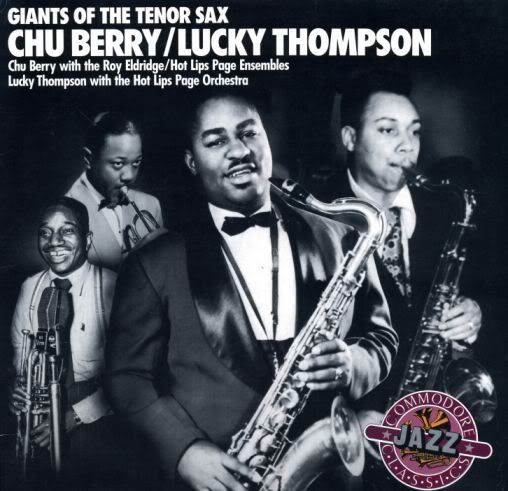 Milt Gabler's Commodore Records grew out of a New York music shop, at first pressing reissues of cut-out jazz classics from the back catalogues of the major companies, and then progressing to issuing discs cut from Commodore's own recording sessions. From 1938 onwards Gabler recorded the small groups and musicians that were playing in the clubs of 52nd Street, thus providing us with a valuable record of the small group swing sound of the late 30s and early 40s which served as the midwife of both bebop and R&B.
The first four Chu Berry tracks were recorded in 1938 and the remainder in August 1941 shortly before his death in an automobile crash. The Lucky Thompson tracks are from March 1944 with the blues influenced Hot Lips Page band. Some of these tracks in particular sound like a template for early R&B with Page's hoarse blues shouting and Thompson's full toned tenor sax.
The full sleeve notes by Milt Gabler and Leonard Feather are included in the download.
Ripped at 320 kbps from vinyl. Password = greaseyspoon
Download link:
http://rapidshare.com/files/98519179/Giants_Of_The_Tenor_Sax.rar
1. Body And Soul / Chu Berry "Little Jazz" Ensemble with Roy Eldridge
2. Sittin' In / Chu Berry "Little Jazz" Ensemble with Roy Eldridge
3. Stardust / Chu Berry "Little Jazz" Ensemble with Roy Eldridge
4. Forty Six West Fifty Two / Chu Berry "Little Jazz" Ensemble with Roy Eldridge
5. On The Sunny Side Of The Street No. 2 / Chu Berry Jazz Ensemble with Hot Lips Page
6. My Gal Is Gone / Lucky Thompson with Hot Lips Page Orchestra
7. Rockin' At Ryans / Lucky Thompson with Hot Lips Page Orchestra
8. Blowing Up A Breeze / Chu Berry Jazz Ensemble with Hot Lips Page
9. On The Sunny Side Of The Street / Chu Berry Jazz Ensemble with Hot Lips Page
10. Monday At Minton's / Chu Berry Jazz Ensemble with Hot Lips Page
11. Gee, Baby Ain't I Good To You / Chu Berry Jazz Ensemble with Hot Lips Page
12. You'd Be Frantic Too / Lucky Thompson with Hot Lips Page Orchestra
13. Blues Jumped A Rabbit / Lucky Thompson with Hot Lips Page Orchestra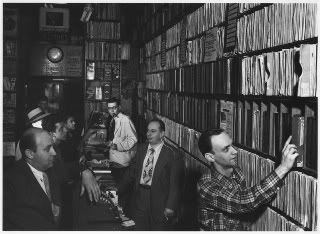 Commodore Record Shop, East 42nd Street