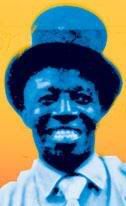 My plea for information on Washboard Bill brought a reply from none other than Marv Goldberg whose R&B website (
the
site for R&B vocal groups) is on the links panel on the right of this page.
Marv came up with the info that King Curtis plays sax and Mickey Baker plays guitar on "In The Morning". He also provided a couple of web links.
There's a link which leads to a myspace profile dedicated to Washboard Bill. I would urge you all to get yourselves over to that page to check out the sounds, pics and words of wisdom. There's four Washboard Bill tracks to listen to, some YouTube clips, some amazing pictures (including the one above) and a biography of Bill.
Somewhere on the page you'll find a link to scans of a letter written by Bill which tells a pretty heartbreaking story of how he earned no royalties from his King recordings despite the fact that the tracks sold pretty well. He talks of finding "In The Morning" featuring on an LP which must be "After Hours". Unfortunately these are circumstances with which many of the artists featured on this blog were familiar. The myspace page is here:
http://profile.myspace.com/index.cfm?fuseaction=user.viewprofile&friendID=203795247
Marv also provided another link confirming the presence of Mickey Baker and King Curtis on "In The Morning":
http://books.google.com/books?id=OGyWw-M5wFsC&pg=PA142&lpg=PA142&dq=%22washboard+bill%22+%22in+the+morning%22&source=web&ots=4fwmd9DhUI&sig=FPLlC4DVYu3fJZ5hUKShl_BWLeI&hl=en
Thanks for these links Marv.
Check out the Comments section on the
"After Hours"
post for further links from "Anonymous".
Lastly, this Ace CD of King and Federal R&B instrumentals has four Washboard Bill Tracks plus plenty of music from many of the artists on "After Hours", so if you dug my previous post, why not splash a bit of cash on "Honky Tonk!"? (Ace CDCHD 761)