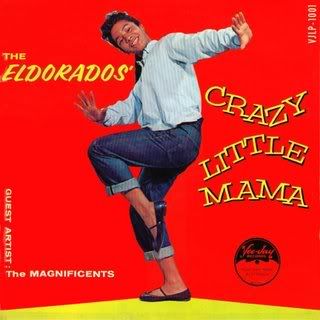 The first album released by VeeJay (in 1957) has ten tracks by the Eldorados, and when they ran out of title artist tracks, they added a couple of tracks by The Magnificents.
Sights and sounds on this post are by Joan K. There's a great front cover scan of this very rare LP and plenty of label shots including some promos. Now the sound files are mostly ripped from original singles (not the album) so that means that there's plenty of surface noise on some tracks. And yes, you can occasionally hear the needle hitting the groove! So just relax, crack open a can of beer, close your eyes and listen to these fifty year old slightly (!) scratchy discs. Sounds from the days when a record was a record.
Ripped at 192 kbps. Password = greaseyspoon
Download link (including folder of scans):
http://rapidshare.com/files/97074997/Crazy_Little_Mama.rar
Thanks Joan!
1. At My Front Door / The Eldorados
2. Now That You've Gone / The Eldorados
3. Rock'n'Roll's For Me / The Eldorados
4. A Fallen Tear / The El Dorados
5. Up On The Mountain / The Magnificents
6. There In The Night / The El Dorados
7. I'll Be Forever Loving You / The El Dorados
8. My Lovin' Baby / The Eldorados
9. Annie's Answer / The El Dorados
10. I Began To Realize / The El Dorados
11. Caddy Bo / The Magnificents
12. I Need You / The El Dorados