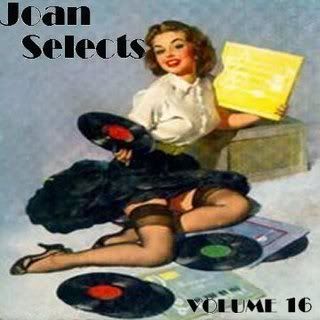 Joan presents a follow-up to her previous volume on answer records (Volume 12), or is this an answer compilation to the previous answer compilation? Send your answers via the comments section, please. And it's over to Joan …
Volume 16 of the Joan Selects series represents a second and final visit to the world of sequels and answer songs. There were several long sequences that at the time seemed to extend for years - the "Annie-Henry" series, a good natured banter between Hank Ballard and The Midnighters and Etta James and Her Peaches, not visited here, and the "Daughter" sequence, which is sampled in this Joan Selects. It was instigated by Ruth Brown with her giant R&B hit for Atlantic in the early '50s with "Mama, He Treats Your Daughter Mean" - The size of sales of this record kicked off a sequence of "answer songs" from the likes of Wynonie Harris and the Five Keys, both represented here.

The theme of sexual prowess was the veiled subject matter of the Dominoes when they recorded Sixty Minute Man for Cincinnati's Federal Records in 1951, and then saw various of the early 1950's doo wop groups chime in with their sequels - one of which (The Du-Droppers - I Can't Do Sixty No More for Bobby Robinson's Red Robin marque) is included here along with the original Dominoes recording.

Some very interesting "follow-ups" or sequels are included here ..., most of which sold poorly. It's worth noting that several of the noted blues men of the 1940's (Lonnie Johnson) and 1950's (Slim Harpo and Big John Greer) got into the act, and are represented here. Several high quality doo wop originals and follow-ups are here as well - "Everybody's Laughing" by Vee-Jay's Spaniels and "I Laughed" by the Jesters, and The Genie's "Who's That Knocking" and the answer "It's Me Knocking" by Jeanie and Her Boyfriends. The Bobbettes are here twice as they answered Chris Kenner's early 1960's New Orleans hit "I Like It Like That, Part 1" with their own "I Don't Like It Like That" and they "answered" their own biggest hit "Mr. Lee" with "I Shot Mr Lee".
Ripped from crackling vinyl at various bitrates. Password = greaseyspoon.
The download includes thirty label shots to die for. Thanks for everything Joan!
Download from here:
Joan Selects Volume 16 - More Answers And Sequels
01 Little Caesar and the Romans - Those Oldies But Goodies (Remind Me Of You) - Del-Fi 4158
02 Little Caesar and the Romans - Memories of Those Oldies But Goodies - Del-Fi 4166
03 Slim Harpo - I'm A King Bee - Excello 45-2113
04 Slim Harpo - Little Queen Bee - Excello 45-2246
05 Billy Ward & The Dominoes - Sixty Minute Man - Federal 45-12022-AA
06 The Du Droppers - I Can't Do Sixty No More - Red Robin 108-X45
07 Hank Ballard and the Midnighters - Let's Go, Let's Go, Let's Go - King 45-5400
08 Hank Ballard and the Midnighters - Let's Go Again (Where We Went Last Night) - King 45-5459
09 The Silhouettes - Get A Job - Junior 391
10 The Heartbeats - I Found A Job - Roulette R-4054
11 The Miracles - Got A Job - End E-1016
12 Ruth Brown - Mama, He Treats Your Daughter Mean - Atlantic 45-986
13 The Five Keys - Mama, Your Daughter's Told A Lie On Me - Aladdin - 3175
14 Wynonie Harris - Mama, Your Daughter's Done Lied On Me - King
15 J B Lenoir - What About Your Daughter - Checker 874
16 The Spaniels - Everybody's Laughing - Vee Jay VJ 246
17 The Jesters - I Laughed - Cyclone 5011B
18 Chris Kenner - I Like It Like That, Part 1 - Instant VR-3229
19 The Bobettes - I Don't Like It Like That - Gone 5112
20 Lonnie Johnson - Tomorrow Night - King 45-4758
21 Lonnie Johnson - Will You Remember (The Answer to "Tomorrow Night") - Rama RR-14
22 Chuck Berry - Maybelline - Chess 1604
23 Big John Greer - Come Back Maybelline – Groove 46-0119
24 Johnny Otis - Willie and the Hand Jive - Capitol F3966
25 Johnny Otis - Hand Jive One More Time -
26 The Tune Weavers - Happy, Happy Birthday Baby - Casa Grande 4037-45
27 The Tune Weavers - My Congratulations Baby - Casa Grande 3038
28 The Tune Weavers - Congratulations On Your Birthday - Checker 1007
29 The Orioles - Crying In The Chapel - Jubilee 45-5122
30 Sonny Till & The Orioles - Back To The Chapel - Charlie Parker 213
31 The Capris - There's a Moon Out Tonight - Trommers TR-101
32 The Capris - There's A Moon Out Again - Ambient Sound 02697
33 The Safaris - Image Of A Girl - Eldo 101
34 The Safaris - My Image Of A Girl Was You -
35 The Earls - Remember Then - Old Town 1130
36 The Earls - Remember Me Baby - Old Town 1181
37 The Genies - Who's That Knocking - Shad 5002
38 Jeanie and Her Boyfriends – It's Me Knocking - Warwick 508
39 The Bobettes - Mr. Lee - Atlantic 45-1144
40 The Bobettes - I Shot Mr. Lee - Triple-X 104