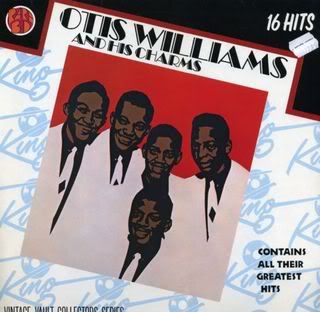 This is an album I have already posted twice on rockhall – the second time with an improved front cover scan. This time I've added a folder of Joan K's remarkable cover scans – 1 album cover, 3 EP covers, 1 EP label shot and eight 45rpm single label shots – all in DeLuxe sleeves.
I've had a read at Unca Marvy's article on The Charms (see links panel on right side of page) and if you want the full lowdown on this group get yourself over there. Find out about their first recording for Rockin' in 1953 – "Heaven Only Knows" which was used by King (after they'd taken over Rockin') to reactivate the DeLuxe label, the big 1954 hit "Hearts Of Stone", the big split when Otis Williams left the group, the two versions of The Charms, further hits ("Ling Ting Tong", "Gum Drop", "Ivory Tower"), who recorded what (Otis Williams and his Charms, The Charms, Otis Williams' New Group), and the rest of the story (including The Escos). There's also a full discography.
Ripped from vinyl at 320 kbps. Password = greaseyspoon
Download link -
http://www80.zippyshare.com/v/OyOMGnZK/file.html
1. Heaven Only Knows
2. Hearts Of Stone
3. Two Hearts
4. Ling Ting Tong
5. Bazoom (I Need Your Love)
6. Ko Ko Mo (I Love You So)
7. Whadaya Want?
8. Gum Drop
9. Ivory Tower
10. In Paradise
11. Save Me Save Me
12. That's Your Mistake
13. United
14. Could This Be Magic
15. Little Turtle Dove
16. Panic
Two Charms LPs were released by DeLuxe in the 1950s – "Otis Williams And The Charms Sing Their All-Time Hits" (DeLuxe 570) in early 1957, plus "This Is Otis Williams" in 1959. You'll find a scan 0f DeLuxe 570 below.
Three Charms EPs were released by DeLuxe in the 1950s. Below you'll find scans of "Hits By The Charms" (DeLuxe 357) from 1955 and two versions of "The Charms Volume 2" (Deluxe 364) also from 1955. There's also a sample of the 45rpm label shots included in Joan K's folder of scans.